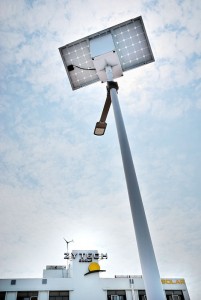 It may be seen at first sight: Solar Street lights from Spanish manufacturer Zytech are like no other product around. The Zaragoza Based firm presents the solar street light with the best rate efficiency-price per road Km. on the market. With a really innovative technology product developed and manufactured in the company's Holland factory, Zytech brand new off-grid Solar Street Lights (or SSLs) including new "Light Pattern" (LP) feature, is specially good for Roads, Off grid residential areas, and in general also for all those places where to bring an electrical distribution line is complex or costly.
Among the features included in the product, we can highlight its versatility to adapt easily to most of latitudes of the world, high efficiency, and the modular robust construction. Among the innovative features, we can highlight its named "light Pattern" power saving system (LP). Untill midnight, the Streetlight works to 100% lighting power, but from midnight, it can be programmed in the SSL program, to give automatically a reduced output power from 50% and up. Depending on de percentage of cease of social or economical activity of the place isntalled until dawn. Only this exclusive power adjusting system by itself means a more efficient pattern in relation to the else SSLs on the market.
On the other hand, about module supporting structure, these reduced consumption LED lamps SSLs, have right over the battery and regulator compartment a tilt adjustable modules structure with the capacity for various modules for higher latitudes and up to a tilt angle of 60º. In hot climate Latitudes instead, it is possible to include ventilation grilles with or without forced low power ventilation fans. Finally the system includes a MPP regulator that can make modules work In their MPP, delivering up to a 95% of maximum module power. If we add to all these smart and efficient features the fact that all the system wiring length from modules to batteries and regulator and the lighting load are within 2 m long, and therefore voltage losses in the wiring can be considered inexistent, we have a very efficient Street Light.
www.zytechsolar.com
Zytech Solar – Grupo Zytech, Brazato 2 – 50012 Zaragoza (Spain)
Tel..: +34 976 791593 – Fax: + 34 976 791594